THE MANUFACTURER OF CUSTOM LENSES, GAGGIONE
A custom solution is the right choice for a customer who does not find the solution in our standard optics range.
Depending on the customer's specifications and requirements, GAGGIONE is able to design a complete optical system and provide the lens, collimator, diffuser, light guide or other appropriate optics to meet the specifications.
Our experience includes applications in the fields of general lighting, street and urban lighting, the transport industry or any other application that requires us to shape light in a specific way. Creating a particular light distribution is not the only reason to choose a custom design. More and more companies understand the strategic benefit and appreciate the value of investing in their own solution to be more cost-effective.
Custom optics reduce system complexity, improve performance and efficiency, market distinction and recognition.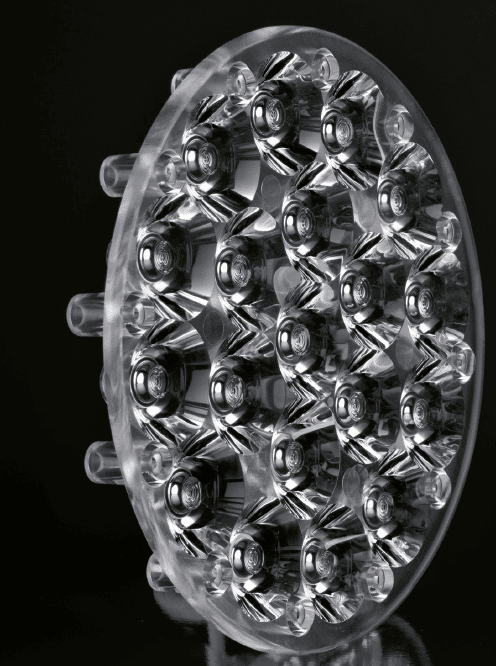 Having your own optical system is a guarantee of differentiation by design and offers greater potential to improve the performance of the final product. Relying on a partner with a solid experience and a worldwide reputation is the solution that GAGGIONE offers to Shape Your Light.
Whether your target product is high-end or price-oriented, we will be happy to provide you with optical designs and/or manufacturing services.
Do not hesitate to fill the form below to provide us with the details of your projects, we will contact you as soon as possible to discuss and quote.
Designing and manufacturing custom-made lenses parts has been part of our DNA for decades
Might your target product be high end or price oriented we will be glad to provide you either optical design and/or manufacturing services.
Please use below form to let us know your projects details, we'll come back to you shortly to discuss and quote it.
Form error is one of the main key factors to be controlled in order achieve desired optical results. It is qualified in µm. The lowest the better (see illustrations below).
It is also an important cost driver for plastic parts injectors when trying to make it as small as possible. Both tooling and parts cost will be impacted. As a consequence, you can select the target where your application will have the best fit following guidelines below. Please do not hesitate to contact us for further information.
We thus recommend the following target depending on your product type:
Imaging optics : lower than 10 µm
Medical systems : 10 µm to 50 µm
High end general lighting: 50 µm to 100 µm
General lighting, street lighting, commodity markets : 100 µm to 200 µm
Form error example on a TIR collimator

Form error measurement along optical surface

OUR REFERENCES IN OPTICS AND LIGHTING

CUSTOMER SERVICE AVAILABLE
5 days a week

MADE IN FRANCE
Design and manufacture


SECURED PAYMENT
by card or by bank transfer

WHERE TO BUY
A network of distributors