Gaggione, optics manufacturer
A HIGHLY QUALIFIED COMPANY SINCE 1948
Founded in 1948, GAGGIONE is an optics manufacturer located in Montréal-la-Cluse between Lyon (France) and Geneva (Switzerland). Gaggione provides high quality optical solutions for LEDs and other lighting applications since the introduction of the world's first Barracuda LED collimator in 1996.
GAGGIONE leverages its extensive experience and resources to provide complete design, development and manufacturing capabilities for the production of custom optical parts and systems.
The quality and consistency of the production are the result of highly qualified optical designers as well as our pre-production and tooling team, generations of optimized know-how with advanced technologies such as diamond machining equipment to produce mould inserts, and of course a high precision injection machine production workshop, operators and ISO 9001 and certifications.
More than a optics manufacturer, GAGGIONE also manages strategic alliances and relationships with sister companies :
MEET OUR TEAM
We are a team composed of experienced people and new talents, experts in our own field.
All passionate about our work and we love offering our expertise at your service.
We are working together to innovate and create your new optical solutions.
DISCOVER OUR WORKSHOPS
All of our workshops and departments are located in Montreal-La-Cluse to allow us outreach work and reactivity.
Discover the photos of the optics manufacturer, Gaggione :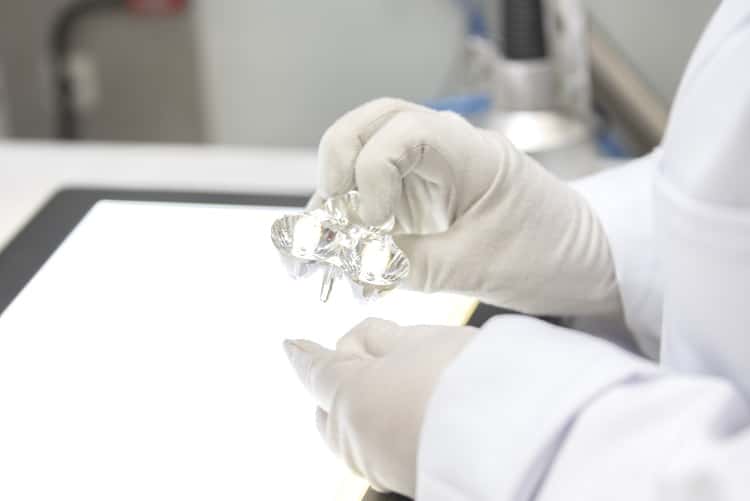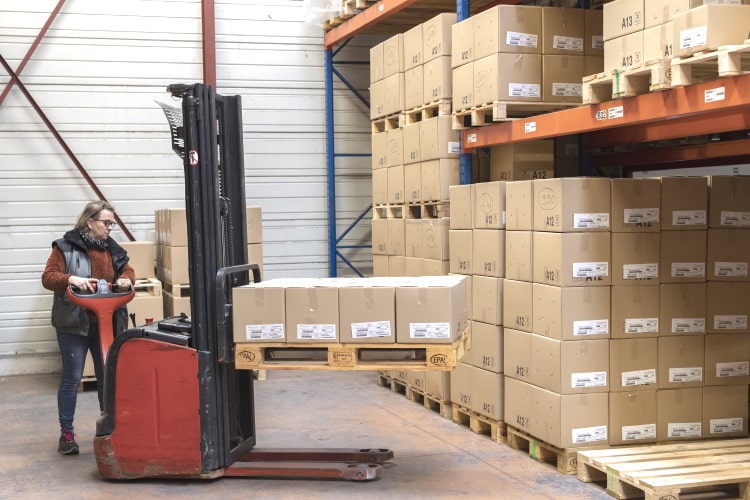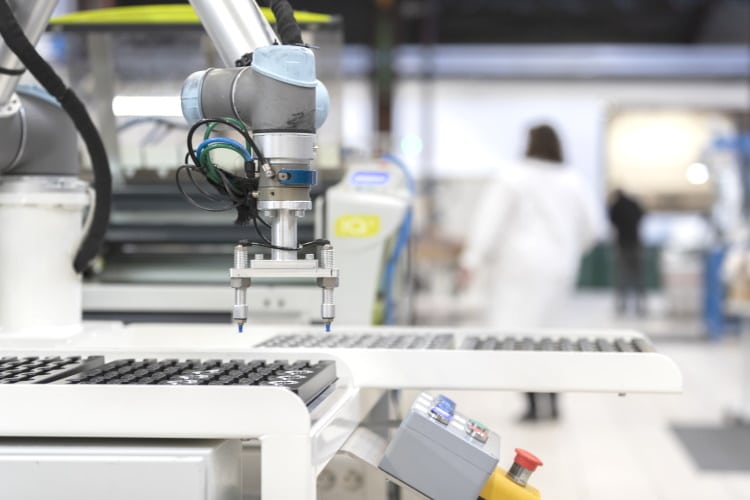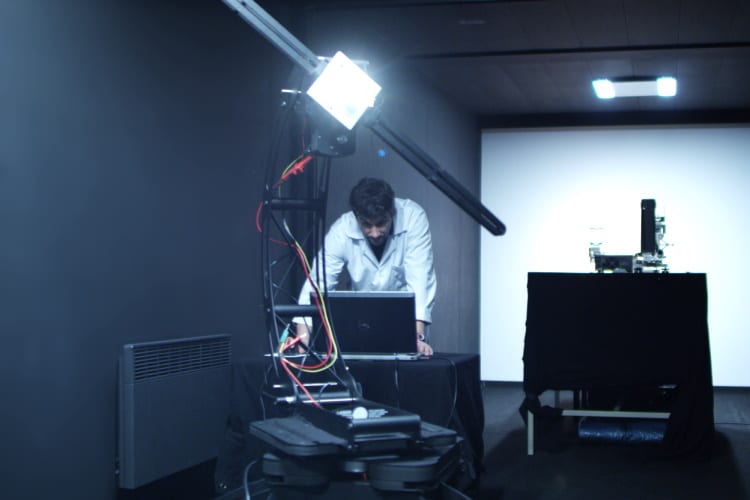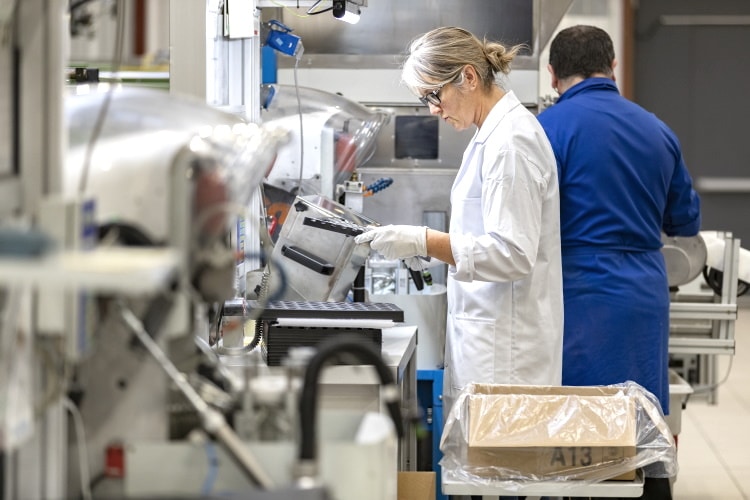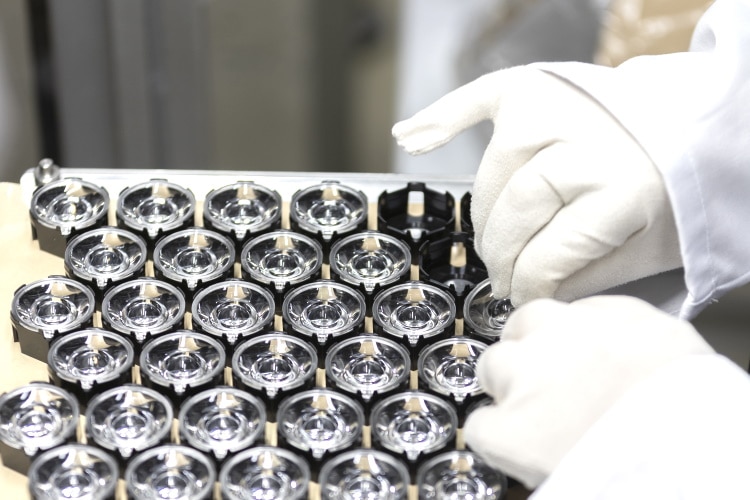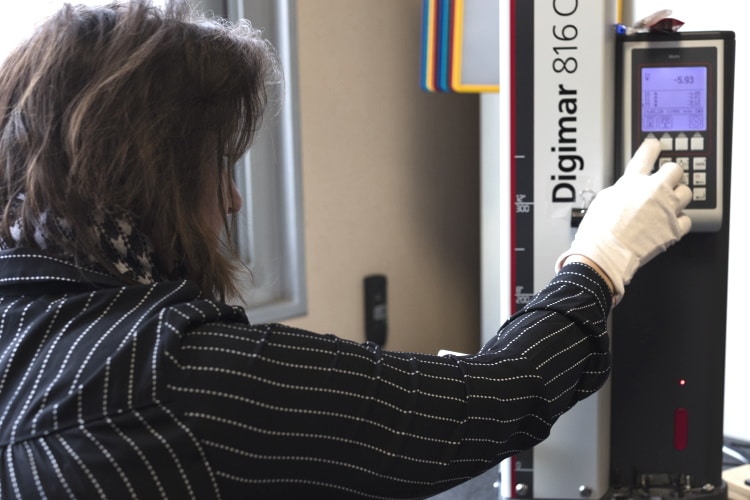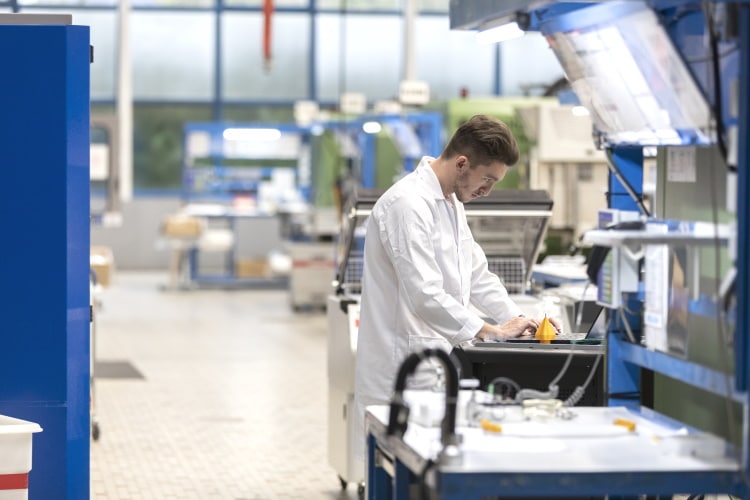 OPTICS MANUFACTURER :
THE HISTORY OF ONE OF THE LEADERS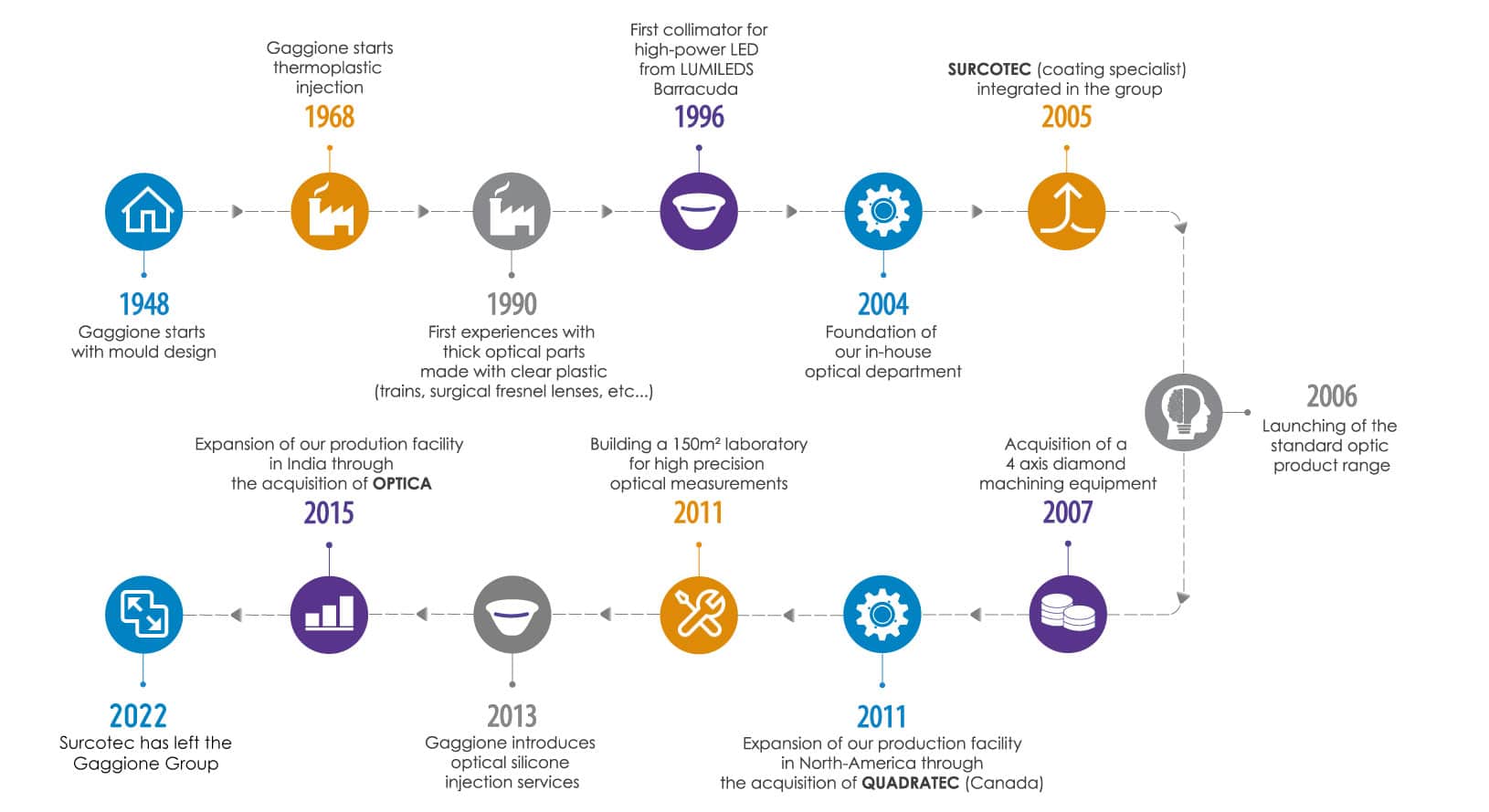 Our references in optics and lighting
We are very proud that so many companies trust us for their optical parts needs. From street lighting to architecture, medical and entertainment, The optics manufacturer, GAGGIONE, has worked with the most important players in each field. Whatever the application, we are fully committed to giving the entire project the attention and professionalism it deserves. Here are some examples of partnerships and specific products we have worked on:
MAQUET / GETINGE is one of the world's leading suppliers of products and systems that contribute to improving the quality and cost-effectiveness of healthcare and life sciences. They employ more than 15,500 people and are present in 41 countries. As a leading medical technology company, MAQUET focuses all its talents and resources to help its customers save as many lives as possible…
AYRTON luminaires are designed to meet all installation and criteria requirements, distributed by dedicated and exclusive teams worldwide. AYRTON uses reliable, flexible and cutting-edge technologies combined with innovative design, providing AYRTON customers with a wide range of pioneering lighting solutions for installation in stages, TV studios, showrooms and architectural settings.
MAQUET / GETINGE is a leading global provider of products and systems that contribute to quality enhancement and cost efficiency within healthcare and life sciences. They employ more than 15,500 people, and have operations in 41 countries. As a leading medtech company, MAQUET focuses every talent and resource towards helping their customers save as many lives as possible..
AYRTON WILDSUN K25
The new WILDSUN-K25 TC is an evolution of the WILDSUN-K25, specially geared to shooting and broadcasting in high-definition. Producing extremely high-quality light without flickering, this luminaire achieves a colour temperature perfectly calibrated at 5700 K and a colour rendering index greater than 92.
The new WILDSUN-K25 TC is particularly suitable for meeting the stringent lighting demands of sporting events, fashion shows, car shows or any prestigious events requiring high-quality light and perfectly rendered colour.
AYRTON MAGICPANEL-FX
MAGICPANEL-FX is the exciting new multi-function, multi-use luminaire descended from the renowned MAGICPANEL-R. With a revolutionary new optical zoom system that has no visible moving parts and a stationary transmitting lens, this proprietary system has a 15:1 zoom ratio with a range of 3.6° to 53°.
The front face of MAGICPANEL-FX is comprised of a 5 x 5 array of squared lenses with perfectly isolated emitters – which offer exciting new possibilities for creating 2D graphical effects. Each of the 25 squared 65 mm output lenses have an optical surface equivalent to that of an 80 mm round lens, combined with an ultra-powerful, low-etendue, LED emitter. MAGICPANEL-FX produces an extremely powerful beam capable of creating extraordinarily new 3D volumetric effects.
AYRTON fixtures are created to answer any demanding installation and criteria, distributed through devoted and exclusive worldwide teams. AYRTON uses reliable, flexible and avant-guard technologies linked to innovative design, providing the AYRTON customers with wide range of pioneer lighting solutions to be installed in Stages, TV Studios, Showvenues and Architectural schemes.
AYRTON MAGICDOT XT
MAGICDOT™XT is a radical variant of the revolutionary MAGICDOT™R. It is fitted with the AYRTON's new and proprietary 126 mm diameter optic – which distinguishes the "XT" product line. Weighing in at 550 grammes, this new high-efficiency lens is the world's largest collimator!
Combined with an ultra-powerful, low-etendue, RGBW multichip LED emitter, MAGICDOT™XT pushes the limits of technology even further with a 2° full beam and centre-beam luminous intensity of 580 candelas per lumen – six times greater efficiency than MAGICDOT™R. With an active phase-change liquid cooling system that employs a heat pipe, this luminaire can be used continuously without significant loss of output.