The SIRIUS range offers two zoom solutions in 35 and 50 mm diameters.
KSIRIUS35Z, 35mm zoom solution, has different holders that are compatible with most brands of COBs and High Power LEDs.
SSIRIUS50Z, 50mm zoom solution, offers two different window options, tunable white window and narrow window for achieving highest intensity. SSIRIUS50 is also compatible with most brands of COB thanks to different mechanical bases.
Focus point :
KSIRIUS35Z : 0.3mm
SSIRIUS50Z : 0.5mm
KSIRIUS35Z This range is mounted directly to the COB/HP LED holder with screws.
SSIRIUS50Z This range has a Twist and Lock mounting. A base is required to assemble the SSIRIUS50. SSIRIUS50* is compatible with all our LLH66B* bases.
KSIRIUS35Z
KSIRIUS35Z1: SIRIUS35 kit compatible with Bender+Wirth | KSIRIUS35Z10 – for a clear holder / KSIRIUS35Z12 – for a black holder
KSIRIUS35Z4: SIRIUS35 kit compatible with TE Connectivity| KSIRIUS35Z40 – for a clear holder / KSIRIUS35Z42 – for a black holder
KSIRIUS35Z6: SIRIUS35 kit compatible with High Power| KSIRIUS35Z60 – for a clear holder / KSIRIUS35Z62 – for a black holder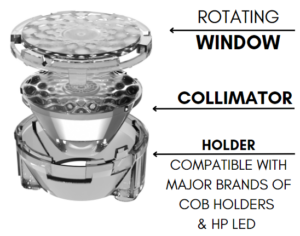 SSIRIUS50Z
SSIRIUS50ZTW0: SIRIUS50 set with a tunable white window and a transparent holder
SSIRIUS50ZTW2: SIRIUS50 set with a tunable white window and a black holder
SSIRIUS50Z0: SIRIUS50 set with the narrower window and a transparent holder
SSIRIUS50Z2: SIRIUS50 set with the narrower window and a black holder