How to choose your holder?
The right lens holder is the key
Reading time : 5 minutes
Last update : may, 2023
Achieving an optimal focus position of the lens is the key factor for a successful LED/Collimator integration. Different holder references are available to position collimators to considered LED. PCB to LES height: the Light Emitting Surface (LES) position must be known and is specific to each LED. It can be found on LED manufacturer datasheet. Here below are 2 examples with and without dome.

Correct position is achieved when PCB to LES height from datasheet is equal or close
to the PCB to LES of this document. Exemple: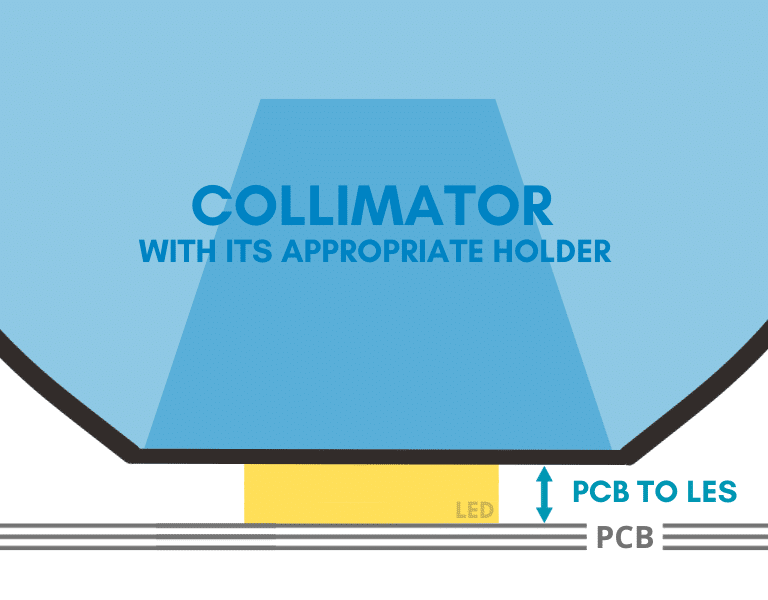 DISTANCE FROM PCB SURFACE TO FOCUS POINT OF OPTIC
LLH01* - ø 16mm holder – LLC01/LLC02/LLC12/LLC22 Series
Adhesive tape thickness: 0.05 or 0.10mm
All measurements are in millimeters.
Last  digits of the reference: 0 (clear), 1 (white), 2 (black), 01 (clear with adhesive), 11 (white with adhesive), 21 (black with adhesive)
LLH02* - ø 32mm holder - LLC05/LLC15/LLC25 Series
Adhesive tape thickness for LLH02HEL, LLH02XAL, LLH02MTB, LLH02RD : 0.125mm
Adhesive tape thickness for the others : 0.044mm
All measurements are in millimeters.
Last digits of the reference : 0 (clear), 1 (white), 2 (black), 01 (clear with adhesive), 11 (with with adhesive), 21 (black with adhesive)

For LLC25* range only, reduced PCB footprint, screws inside
For LLC25* range only, reduced PCB footprint, screws inside
For LLC25* range only, reduced PCB footprint, screws inside
For LLC25* range only, reduced PCB footprint, screws inside
Reduced footprint, screws inside
Reduced footprint, screws inside
Reduced footprint, screws inside
Reduced footprint, screws inside
Reduced footprint, screws inside
Reduced footprint, screws inside
Reduced footprint, screws inside
Reduced footprint, screws inside
For LLC25* range only, reduced PCB footprint, screws inside
For LLC25* range only, reduced PCB footprint, screws inside
For LLC25* range only, reduced PCB footprint, screws inside
For LLC25* range only, reduced PCB footprint, screws inside
Reduced footprint, screws inside
Reduced footprint, screws inside
Reduced footprint, screws inside
Reduced footprint, screws inside
Reduced footprint, screws inside
Reduced footprint, screws inside
Reduced footprint, screws inside
Reduced footprint, screws inside
Screw inside, rounded snoot
Screw inside, rounded snoot
Screw inside, rounded snoot
Screw inside, rounded snoot
Reduced PCB footprint, screws inside
Reduced PCB footprint, screws inside
Reduced PCB footprint, screws inside
Reduced PCB footprint, screws inside
Without pins, screws inside
Without pins, screws inside
Without pins, screws inside
Without pins, screws inside
Without pins, screws inside
Without pins, screws inside
Without pins, screws outside
Without pins, screws outside
Without pins, screws outside
Compatible with Bender & Wirth
Compatible with Bender & Wirth
LLH07* - ø 35mm holder – LLC07/LLC17 series
All measurements are in millimeters.

Last  digits of the reference: 0 (clear), 1 (white), 2 (black)
LLH59*/LLH09* - ø 45mm holder – LLC49/LLC59 series
All measurements are in millimeters.

Last  digits of the reference: 0 (clear), 1 (white), 2 (black)
Reduced PCB footprint, for LLC59* range
Reduced PCB footprint, for LLC59* range
Reduced PCB footprint, for LLC59* range
No pins, reduced PCB footprint, for LLC59* range
No pins, reduced PCB footprint, for LLC59* range
No pins, reduced PCB footprint, for LLC59* range